I grew up walking my family dog with his collar and 6′ leash. Little did I know I was damaging his trachea, especially when he pulled. Here are my top recommendations for harnesses and leashes on the market.
Harness
Erin Taylor of DogTec introduced me to the Freedom No Pull Harness. It's not all cushiony and padded – which would not be ideal for a hot summer day. Instead, it's strappy and the straps that go under the dog's armpits and chest are made of velvet material to prevent chafing. There are rings for both front and back clipping.
Also, they offer warranty for any harnesses your dog chews through. AND ONE OF MINE ACTUALLY DID, that (adorable and forgivable) monster.
My second harness recommendation is the No Pull Harness by Canine Equipment which is more readily available in most pet shops.
Leashes
I'm huge fan of Ruffwear leash products. They thought of everything before I even encountered the issue.
The Flat Out and Roamer Leash models are incredibly versatile and ideal for walking multiple dogs, dogs who pull, dogs who are reactive etc. I've seen them sold at Bones and Bow Wow Haus.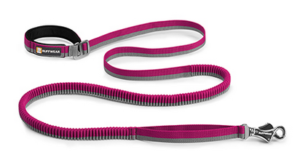 Halti Links
They are great to link between the harness and collar. This is more necessary for dogs who can wiggle their way out of their harness or dogs who bolt and escape their harness in a moment of flight.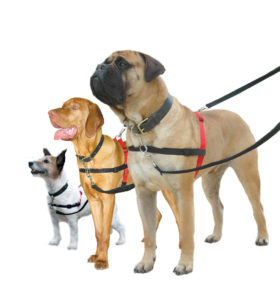 Halti link is also useful to use if you are using a head halter and need a link between the head halter and collar.

It's impossible to find but pretty easy to DIY if you're keen. I searched everywhere in Vancouver. Bosley's discontinued it (WHY, BOSLEY). However, Amazon sells them for up to $10.
That's all, folks. Happy and safe walking!
Product Reco's – Harness and Leashes